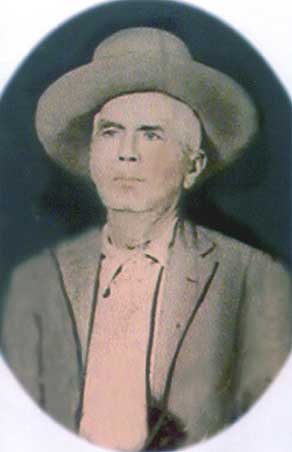 Luis Aranda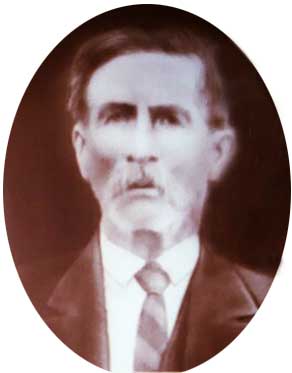 Maximo Aranda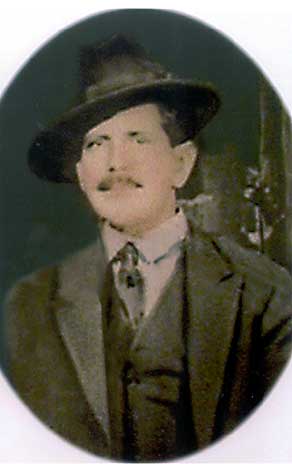 Rafael Aranda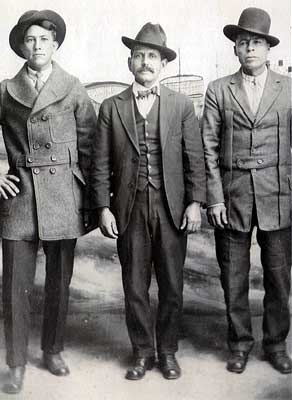 Rafael Aranda (Middle)
Luis Aranda (shown in the picture on the left) was born in 1849 in San Elizario, Texas. His parents were Ygnacio Aranda and Petra Lujan. The following are the names of his brothers and sisters: Ysabel, Romano, Cecilio, Ygnacia, Maximo, Clemente De Jesus, Carlota, Benito, Maria Pilar and Anacleto.
Luis's parents came from prominent families. His father Ygnacio was born in 1801 in Chihuahua, Mexico. His mother Petra was born in 1811 in San Elizario, Texas.
On May 21, 1874, Luis married Francisca Cazares. Francisca's parents were Avato Alberto Cazares and Pabla Castillo, both from San Elizario, Texas.
Luis is grandfather to Louis, Adela, Ralph Jr. and Irma Aranda. Their father is Rafael (Ralph) Aranda who was born in San Elizario, Texas and is shown in the pictures on the left.
Luis's brother Maximo was born in 1845 in San Elizario, Texas. Maximo married Alejandra Alvillar on January 10, 1867 in San Elizario, Texas. In 1865, Maximo was elected to the Texas State Legislature but due to Indian uprisings could not take office. In 1870, he was elected the first County Judge of El Paso. His friend, neighbor, associate and in-law, Captain Telesforo Montes followed Maximo in becoming a County Judge in 1872. The Montes Family, like the Aranda Family, was prominent, admired and extremely involved in San Elizario political affairs during the mid to late 1800's. Maximo also served as Justice of the Peace, was instrumental in the Salt War of Texas and was a school board trustee in San Elizario, Texas.
Maximo's daughter Carolina was married twice. Her first marriage was to Faustino Alarcon on September 23, 1889. The best man was Octaviano Ambrosio Larrazolo who later became Governor of New Mexico in 1919 and a United States Senator in 1928. The maid of honor was Octaviano's wife, Rosalia Cobos the daughter of Jesus Cobos and Francisca Montes. Francisca was the daughter of Telesforo Montes and Quirina Alderete. Octaviano married a second time when he became a widower. He married Maria Montes Garcia, the daughter of Marina Montes and Carlos Garcia. Marina was the daughter of Telesforo and Carlos was the son of Captain Gregorio Nacianceno Garcia I and Maria De Los Santos Alvillar. Jesus Cobos and Gregorio like Maximo and Telesforo were also very active in the leadership of the San Elizario community. Both Telesforo and Gregorio had served as captains in the Texas Rangers and everyone in San Elizario addressed them as such.
Carolina's second marriage was to Jesus Montes, the son of Telesforo Montes. The best man was Tomas Garcia and maid of honor was his wife, Angela Montes. Tomas was the son of Gregorio Nacianceno Garcia I. Angela was the first daughter of Telesforo Montes. Furthermore, this was also the second marriage for Jesus. His first marriage was to Maria Maxima Garcia, daughter of Gregorio Nacianceno Garcia I. Jesus and Carolina were both widowed when they wed.
Note: Regarding the picture on the left where Rafael (Ralph) Aranda is standing with two men, if anyone can identify these men please write and let me know who they are so that I can update the website.
Following is the family chart of Luis Aranda:

Name
Born
Birthplace
Luis Aranda
Head
1849
San Elizario, Texas
Francisca Casarez
Wife
1850
San Elizario, Texas
Isabela
Daughter
1865
San Elizario, Texas
Pedro
Son
1871
San Elizario, Texas
Pabla (Paula)
Daughter
1873
San Elizario, Texas
Eloisa
Daughter
1875
San Elizario, Texas
Avato
Son
1876
San Elizario, Texas
Lorenzo
Son
1877
San Elizario, Texas
Rafael (Ralph)
Son
1879
San Elizario, Texas
Catarina
Daughter
1882
San Elizario, Texas
Francisca II
Daughter
1884
San Elizario, Texas
My grandparents, Jose Jesus Montes (Papa Jose) and Romanita Madrid (Nana) often spoke of the many great families that came from San Elizario. In 1920, Papa Jose and Nana were friends and neighbors with Maximo Aranda, his wife Alejandra and their daughter Maria. They lived on Clint - San Elizario County Road in San Elizario, Texas. The 1920 census shows where the Montes family and the Aranda family lived on the same street.
Note: To view the original first page of the census documents, click on: 1920 Census. Notice Maximo, Alejandra and Maria at the bottom left of the page.
The Aranda family that began with Ygnacio Aranda and Petra Lujan in the early 1800's will always be loved, cherished and remembered as one of the famous and distinguished pioneer families of San Elizario, Texas. The Aranda family makes us proud to be Americans and Texans. The families with roots in San Elizario will always have a special place in the illustrious history of our magnificent country.
Conrado Montes
August 10, 2003