History of the Rey Family
The Rey Family of El Paso, Texas descended from Ysidro Rodriguez Rey and Maria Guadalupe Valles. Ysidro Rey was christened Ysidro Nepomuceno Rodriguez Rivas on May 22, 1766 in El Sagrario Church in Chihuahua, Mexico. His father was Miguel Geronimo Rodriguez Rey and his mother was Juana Maria de Rivas. Ysidro Rey married Maria Guadalupe Valles on February 26, 1802 in Aldama, Chihuahua, Mexico. Maria Guadalupe Valles was born on March 14, 1786 in Ojinaga, Chihuahua, Mexico.
History confirms that most of the men during this time period were military men. Ysidro Rey served in the Royal Spanish Military between 1788 and 1820 at the following locations:
• 1788: Nueva Vizcaya.
• 1790 & 1798: Cerro Gordo (Presidio).
• 1804 to 1817: Santa Fe (Presidio).
In 1805, Ysidro Rey brought his family to the El Paso and San Elizario, Texas areas where he continued his military career:
• 1805: El Paso, San Elizario Presidio where he served as Lieutenant Governor of El Paso, Texas.
• 1817: Nuevo Mexico-Teniente, Gobernador (Governor) Interim.
As Lieutenant Governor of El Paso, his correspondence states that he took the census of the general population and also the census of school age children. Ysidro Rey also led wagon trains to and from Santa Fe, New Mexico. He had contact with the local Indians (Native Americans) and tried to win their friendship by trading goods with them. Additionally, he reported on the condition of the missions and requested funds for their upkeep. He made requests to his superiors regarding whether fines and prison fees could be used to build a jail. In 1806, Ysidro Rey reported about an Indian raid on Senecú and the death of one young boy. In 1807, he also reported on legal cases, travelers with passports and lawyers activities. When Mexico won its independence in 1820 from Spain, Ysidro Rey retired. His sons also served in the Mexican Military.
Ysidro Rodriguez Rey and Maria Guadalupe Valles had five children:
Captain Antonio Rey
Captain Jose Luis Rey
José Maria Rey
Mariano Rey
José Gumecindo Rey

Captain Antonio Rey (Birth year unknown) married Josefa Montes. (Marriage dispensation: AHAD 407, June 6, 1844).
Captain Jose Luis Rey (Born August 27, 1808 in Cd Juarez, Mexico) married Maria Soledad Montes, born January 10, 1815 in San Lorenzo, Mexico. (Marriage dispensation: AHAD 402, September 24, 1841).
Children:
Maria Regina Rey was born in 1846.
Maria de Jesus Rey was born in 1848 and married Francisco Rey.
Ladislao Rey was born in 1850.
Marcelina de Jesús Rey was born in 1852.
Florencia Rey (Birth year unknown) married Martiniano

Valverde

.
Joaquina Rey (Birth year unknown).
Francisco & Maria de Jesus Rey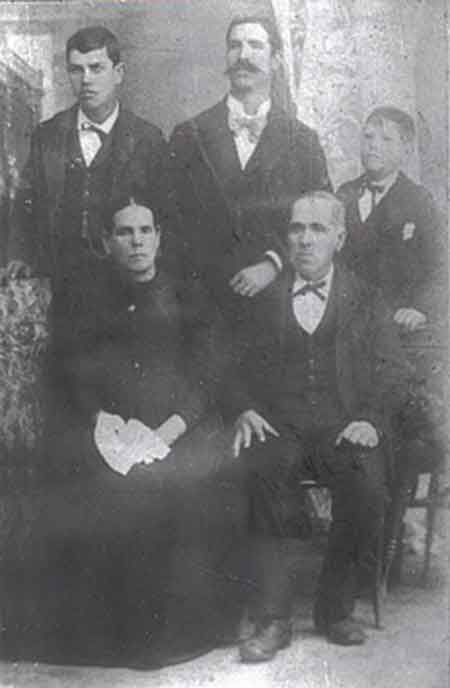 Names of people listed from left to right:
Sitting in front: Maria de Jesus Rey and Francisco Rey
Standing in back: Sons; Benjamin, Mariano and Fernando

Notes:
1. Francisco Rey was the son of Mariano Rey and Maria Jesus Casares.
2. Maria de Jesus Rey was the daughter of Jose Luis Rey and Maria.
Soledad Montes.
3. Picture was taken in 1901.

Note: Maria Soledad Montes and Josefa Montes were sisters. Their parents were Crisantos Montes and Maria de Jesus Garcia who were married in 1805 in Cd Juarez, Mexico.
José Maria Rey (Birth year unknown) married Isabel Sambrano.
Children:
Francisca Rey (Birth year unknown) married José Maria Escajeda.
Rosenda Rey (Birth year unknown) married Sabas Aranda.
José Victoriano Rey was born in1843.
José de Los Ángeles Rey was born in 1845 and married Paulina Escajeda.
Jose Martin Severo Rey was born in 1848.
Guadalupe Rey (Birth year unknown).
Casimiro Rey (Birth year unknown) married Beatriz Loya in 1889.
Pomposo Rey I was born in 1855 and married Refugio Cobos in 1880.
Vidal Rey I (Birth year unknown) married Basilia Rivas in1882.
Marciano Rey I was born in 1857 and married Francisca García in 1879.
Children:
Isabel Rey I was born in 1880.
Marciano Canuto Rey II was born in 1882 and married Refugio Montes in 1912.
José Nemesio was born in 1883 and married Carmen Terrazas.
Eloisa Ana Rey was born in 1891.
Pomposo Rey II was born in 1893.
Vidal Rey II was born in 1897.
Isabel Rey II was born in 1900.
Notes:
1. Refugio was the daughter of Severo Montes and granddaughter of Telesforo Montes.
2. Francisca Rey (Birth year unknown) married Elceario Martin Montes in 1912.
3. Elceario was the son of Severo Montes and grandson of Telesforo Montes.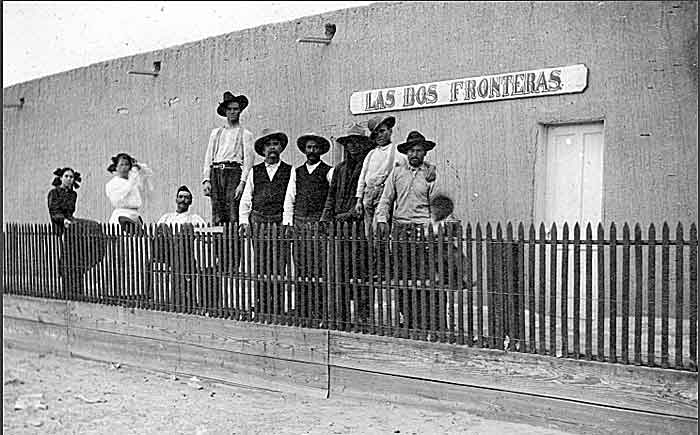 Names from left to right:
Eloisa Rey, Francisca Rey, Jose N. Rey, Pomposo (last name unknown), Marciano Canuto Rey II, Unknown person, Vidal (last name unknown), Unknown person.
Note:
Excerpt from 'The Bells of San Eli' written by Amelia Montes Skaggs and Dr. Samuel R. Skaggs:
"Don Marciano Rey I with Don Jesus Cobos actually did acquire land in El Paso County and construct homes in Fabens for the refugees fleeing the Mexican Revolution of 1910. Don Marciano also donated the land for the Fabens, Texas cemetery. The first mission, Santa Rosalia, was in the home of Marciano Rey II. The writer (Amelia Montes Skaggs) remembers attending mass there, with San Elizario's pastor, Roberto Libertini, officiating. Don Jesus purchased land and helped establish the Santa Rosalia Mission Church across the street from the Marciano Rey II home. The bells for the church were donated by Jose N. Rey. When the railroad came, the name of the community was changed to Fabens and the mission renamed Our Lady of Guadalupe."
Men on Horses

Marciano Rey I is sitting on the white horse. Jose Nemesio Rey is on the far left wearing a vest. Jose was the son of Marciano.
Notes:
1. This picture was probably taken near the Hacienda de los Hermanos Rey
(A military land grant given to the Rey brothers). The Rey brothers, cousins, and extended families lived
on the land grant.
2. The caption on the picture states: Presa de San Martin. Presa means dam, thus San Martin Dam.
Mariano Rey (Birth year unknown) married Maria de Jesús Casares.
Children:
Francisco Rey (Birth year unknown) married Maria de Jesus Rey.
Maria Justa Luisa Rey was born in 1851.

Notes:
1. San Elizario was such a small community that there were a lot of intermarriages between the pioneer families. Marriage dispensations were required by the wedding couple who may have been too closely related by blood. The dispensation was granted by the Church if they were related in the third or fourth degree. The Rey and Montes family required dispensations because the Montes sisters and the Rey brothers were third cousins through their mothers. For marriage dispensation information: Refer to Parral Archives at UNM- Las Cruces, New Mexico.
2. When military men retired, they would receive a land grant. The family of Jose Maria Rey combined their land to form the "Hermanos Rey Hacienda". Most of the children were christened in Guadalupe Bravo, Mexico so it is assumed that the hacienda was nearby. Other family members were born in San Elizario, Socorro, San Lorenzo, Cd Juarez, San Antonio de Senecú or Praxedis Guerrero.
Hueco Tanks Picnic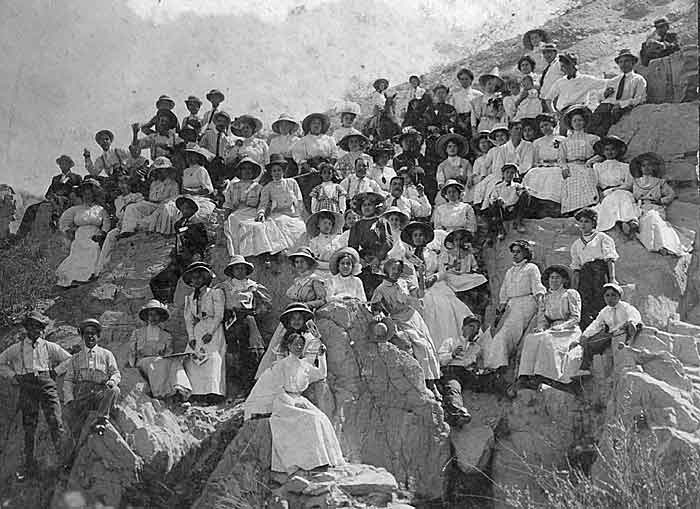 The people of this small community were of a Hacienda Gentry. They dressed in the latest Victorian fashion of the late 1800's. For recreation they had picnics by the Rio Grande or at Hueco Tanks: Hueco Tanks are located in Texas, 30 miles east of El Paso. It consists of four massive hills that contain jumbled boulders which rise above the desert floor. No doubt this prominent and oddly compelling landmark has had many different names through time. Today it is known as Hueco Tanks. Characterized as an island in the desert, a natural oasis, a spiritual sanctuary, the site has meant many things to many people. Refer to: http://www.texasbeyondhistory.net/hueco/
3. All the above information can be verified at familysearch.org, on the filmstrips at the Family History Center of the LDS Church, or the filmstrips at UTEP. The University of Arizona at Tucson has all of his correspondence. http://uair.arizona.edu/item/68386/browse-names.
4. Rick Hendricks's book, 'San Elizario' from the Texas Western Press, lists correspondence from Isidro Rey and Luis Rey. He received his information from the Janos microfilm collection, UTEP; roll 14, 15, and 30. The correspondence of Luis Rey from San Elizario is dated January 15, 1841; November 1, 1841 and June 23, 1842.

Note: Isidro and Ysidro are one in the same.
The Rey Family Biography was written by Elma Valdés and edited by Conrado Montes with final editing by his brother, Richard Montes.
Conrado Montes
February 2, 2011