Life Story of Joaquin Salazar and Josefa Montes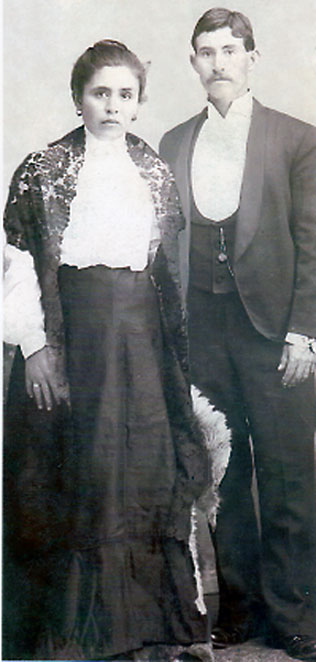 Joaquin Salazar and Josefa Montes
Joaquin Salazar was born in 1871 in San Elizario, Texas. Joaquin's parents were, Jose Jesus Salazar, born in San Elizario in 1840 and Anselma Holguin, born in San Elizario in 1848. His Grandparents were Nicasio Salazar born in 1800 and Arcadia Padilla born in 1806. Nicasio and Arcadia were married in 1837. They had the following children: Maria De Jesus, born in 1837, Jose Jesus, born in 1840 and Petra, born in 1848. The two sisters married into the Escajeda Family from San Elizario. Maria De Jesus married Encarnacion Escajeda and Petra married Benigno Escajeda.
Joaquin Salazar married Josefa Montes in the San Elizario Mission Church in 1897. Josefa, the daughter of Agapito De Jesus Montes, was born in San Elizario in 1874. Josefa was also the granddaughter of Telesforo Montes. Joaquin and Josefa had the following children: Jose Antonio, born in 1901, Bernardita, born in 1908, Jose De Jesus, born in 1909, Ignacio, born in 1910 and Jose Gustavo, born in 1913. They were all born in San Elizario, Texas.
Ignacio Salazar married Ericilia Olivas who was born in El Paso, Texas in 1914. They had five daughters: Rita, Mary Armeida, Margarette, Christina and Josephine. They were all born in San Elizario. The entire family moved to San Francisco, California from El Paso, Texas in the 1940's.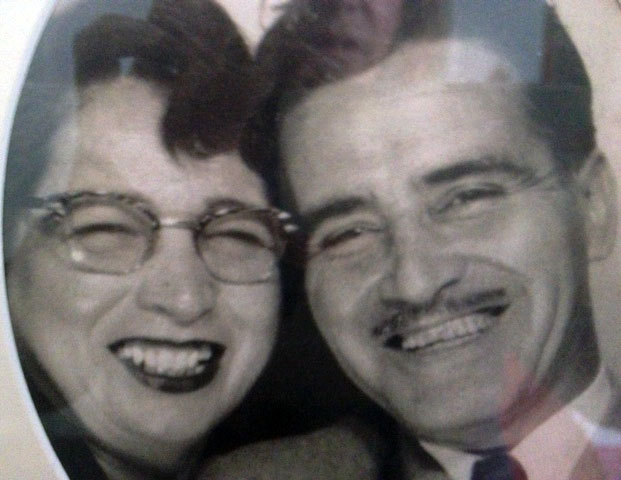 Ignacio Salazar and Ericilia Olivas
Jose Gustavo Salazar married Sarah Gladys Holland who was born in El Paso, Texas in 1915. They had the following children: Jose Fernando born in 1932, Robert born in 1933, Joaquin Gustavo born in 1938 and Sisters Teresa and Nancy Ruth were born in 1936 and 1943, respectively. All the children were born in San Elizario, except for Nancy who was born in El Paso, Texas. Joaquin Gustavo Salazar was born two months after his grandfather, Joaquin passed away in a car accident. Even though Joaquin never met his grandfather, he was honored to carry on the Salazar family tradition by being named after him. His grandfather was a well respected man in San Elizario who was addressed as Don Joaquin. Joaquin Gustavo Salazar married Elizabeth E. Diaz, who was born in Los Angeles, California in 1941. They had the following children: Steven J., born in 1961; Gregory R., born in 1962, Marc A., born in 1965, Eric M., born in 1967, Anne E., born in 1971 and Mary T., born in 1979. They were all born in the Los Angeles, California area.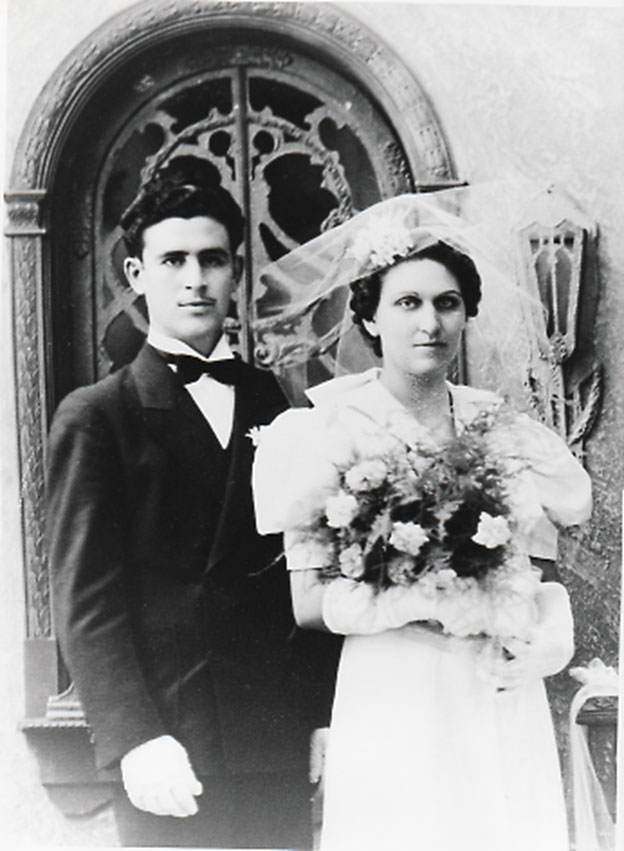 Jose Gustavo Salazar and Sarah Gladys Holland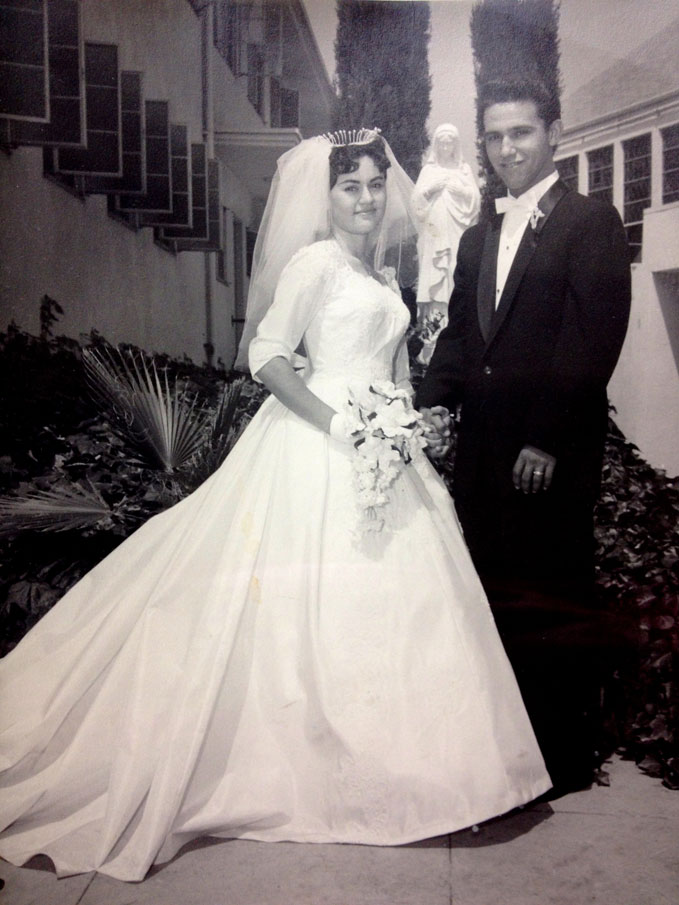 Joaquin Gustavo Salazar and Elizabeth E. Diaz
Don Joaquin was called "Papa Keen" by his grandchildren and his wife Josefa was known as "Chata" by most everyone but she was "Mamanie" to her grandchildren. Joaquin had the gift of a sharp business sense. He knew how to make money and then how to make that money work for him. After saving up some money by working in the salt mines, he bought a property in San Elizario that contained a building that is now known as Salazar Hall. The building included a cantina, pool hall, dance hall and a handball court. Joaquin's son, Jose Gustavo managed the property, worked as a bartender and also served as the accountant for the business. He employed the services of Frank Jiron, a local Notary Public, to assure the legality of leases on the property and the hall rentals. Salazar Hall was the center of activity because of the bar, the pool hall, the restaurant and the handball court. The building was about two hundred years old when Joaquin bought it. The structure was one of the first of these types of houses built in this country. It had walls made of adobe three feet thick and ceilings ten feet high. Besides this business venture, Don Joaquin also owned two gasoline stations and a ranch where he planted cotton.
The location of the property, which was centrally located in San Elizario, made the Salazar Family home a hub of activity. People would drop in to visit as they shopped in the area or would yell out a hello as they walked by. It was not uncommon for friends to come and ask Joaquin for advice regarding family and business matters. Joaquin was always eager to offer assistance to anyone who was in need of his help. If he was unable to help, he would counsel them into accepting the problem and help them search for alternative solutions.
During the 1930's Depression, he would assist neighbors who came to his home in search of food, a loan or help in repairing their properties. The community knew that they could always depend on his generosity and some even had running tabs with him. His personal loans were made on a handshake and the family never knew who owed him money. During the war, he would leave bales of cotton as collateral at the market for those who needed supplies but did not have the money to pay. He never gave a second thought of how or when he would get paid because he had what he needed to make his life full therefore, he shared his abundance. Joaquin taught his children and grandchildren the valuable lesson of sharing with those less fortunate. It appears that the more the Salazar Family gave, the more they received. Because of his attitude in giving, sharing and good business sense, his family did not suffer during the Depression.
As a result of his outgoing personality and sense of joy, Joaquin became a very popular man in San Elizario. Records point out on how he related with the community and how they loved to see him in plays and re-enactments at the fiestas where he would dance and play in comic skits.
Joaquin and Josefa were also very devout Catholics. They attended mass every day and were very close with the priests that came to the church. On many evenings, Joaquin would walk to the priest's house after dinner and they would play such games as 'La Loteria' for relaxation and fellowship. The priests could always count on him whenever anything needed repairs in the church. He would attend to the problem immediately and would never charge for materials or his labor. He donated two of the stain glass windows in the church in remembrance of his two children that had passed away. The Salazar Family documents also indicate that Joaquin was an accomplished wine maker. Furthermore, he also had a great recipe for brewing beer. Both Joaquin and Josefa enjoyed the excitement of parties and all forms of celebrations. The two major fiestas they attended during those years were the San Isidro Fiesta on May 15th and the San Elizario Fiesta on September 27th.
Joaquin died tragically in an automobile accident. All of San Elizario went into mourning as soon as they heard the tragic news and immediately came in droves to offer condolences to the family. They came with food and sweets as a way of comforting the family. On the day of the funeral, people came with large baskets, platters loaded with enchiladas, menudo, pan dulce, chile con carne, tortillas and all kinds of appetizing items. They wanted to honor the family of this man that they had loved and respected. Joaquin was a giving and loving family man. He was a kind friend who believed in family values and traditions. Joaquin Salazar has established himself as a great pioneer in the History of San Elizario, Texas.
The information for the life story of Joaquin Salazar and Josefa Montes was provided by Nancy Ruth Salazar Hernandez, Joaquin Gustavo Salazar and Steve Salazar, descendants of Joaquin Salazar and Josefa Montes.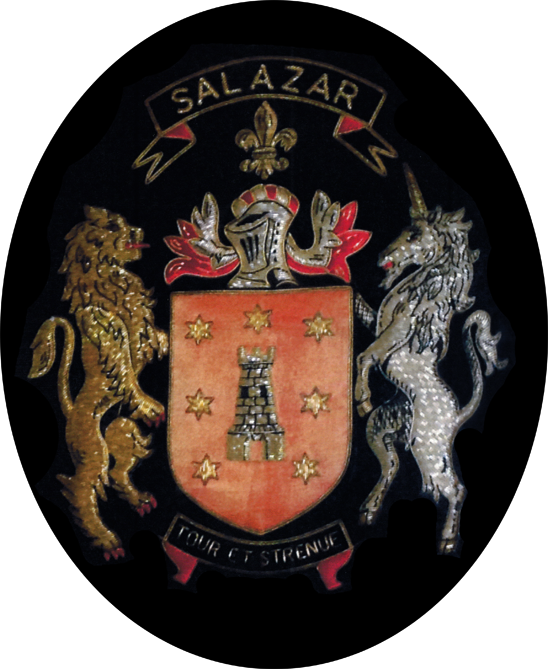 The Life Story of Joaquin Salazar and Josefa Montes Salazar was written by Conrado Montes and edited by his brother, Richard Montes, descendants of Josefa Montes.
Conrado Montes
December 15, 2014